Steve Cainas
Production Coordinator
In his 20-plus year career, Steve Cainas has worked as a production coordinator on numerous television shows and movies, including Fame, Heroes, Knight and Day, and The Ugly Truth.
As a production coordinator, it's Steve's job to manage the overall logistics of a shoot, which includes everything from booking locations and securing camera equipment during pre-production to keeping the crew on schedule and under budget during filming. It's a role that requires incredible organizational skills, patience, and the ability to face whatever creative and technical challenges may lie ahead on any particular day.
"It's basically a process of making sense of chaos," says Steve. "You're constantly trying to figure out plan b, and thinking ahead to what's coming up through the next weeks of filming."
Steve graduated from Full Sail's Film program in 1992 and got his start working on films like The Hudsucker Proxy and Sweet Home Alabama. In 2004, he was asked to coordinate the pilot episode of ABC's Lost; he ended up working on the show for its first three seasons. Steve's experience on Lost broke new ground, and he has since become a sought after creative force in his field, with credits on Knight and Day, The Twilight Saga: Breaking Dawn – Part 1, and more. He was inducted into the Producer's Guild in 2009.
"I kind of laugh to myself many times on set and wonder 'How am I here.' It astonishes me, and makes me feel proud that I've taken the right steps to reach where I am. I feel very lucky to have a great career, and a passion."

Credits:
Guardians of the Galaxy Vol. 2, Concussion, Goosebumps, True Detective, Twilight Breaking Dawn, Leatherheads, LOST, Sweet Home Alabama, U.S. Marshals, The Hudsucker Proxy
Graduation Year:
1992
Every day is different, every project adds a sense of excitement, so I can't think of what else I would do."

—Steve Cainas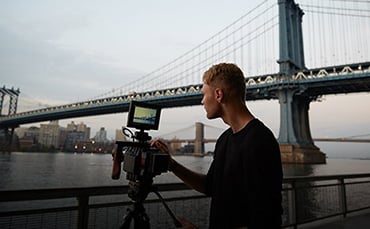 Turn your stories into experiences.
2010 Hall of Fame Inductees