Published Jul 12, 2023
XP League Returns to Full Sail for North American Finals
The youth esports league brought more than 250 gamers to Full Sail's campus for the 2022-23 season finals.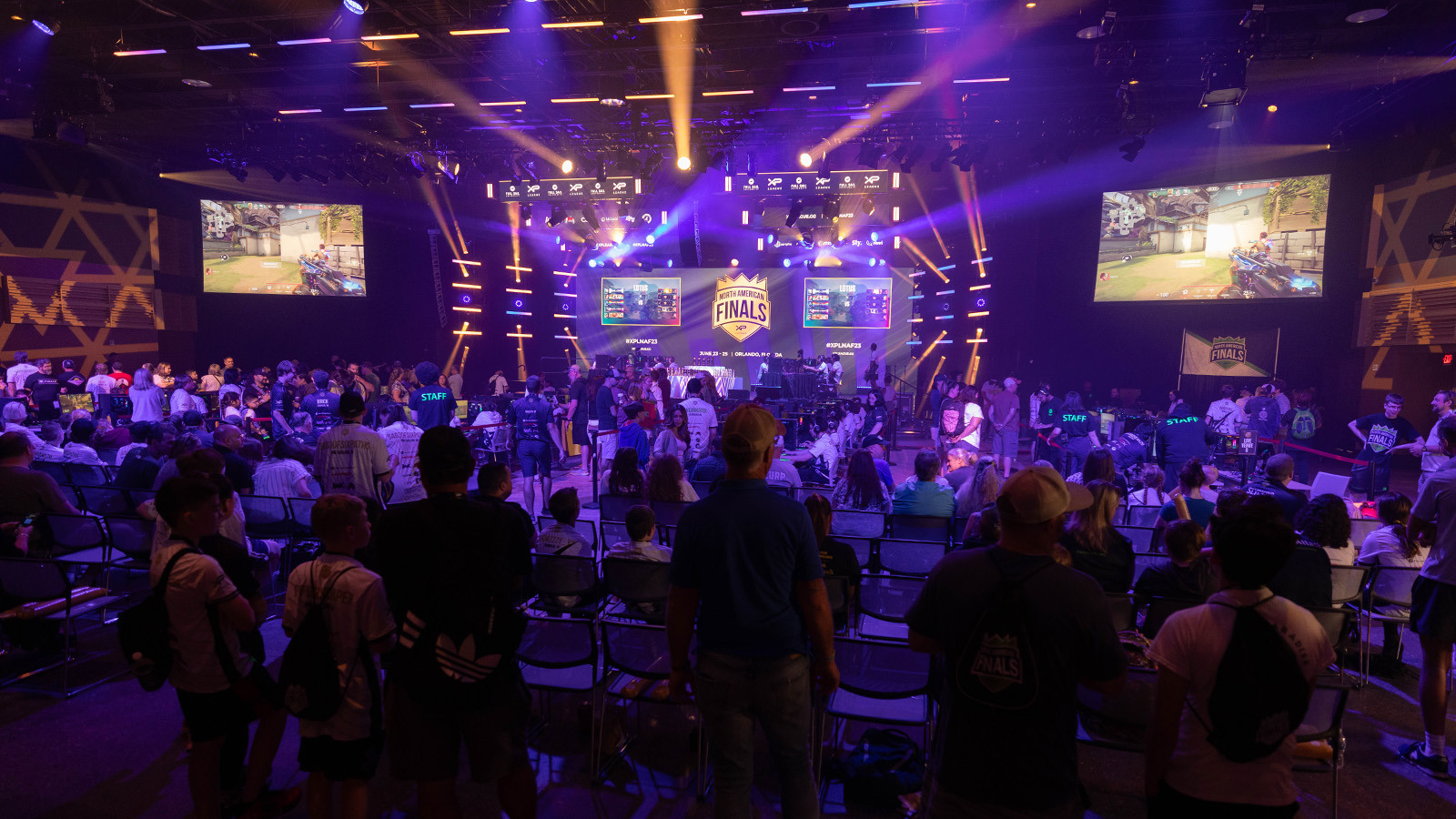 Youth esports organization XP League (XPL) recently returned to the Full Sail campus to present its 2023 North American Finals. Hosted in Full Sail's Live Venue and the Full Sail University Orlando Health Fortress, the three-day event saw more than 250 youth gamers from around the country travel to Orlando to compete live in popular competitive titles: Apex Legends, Fortnite, Overwatch, Rocket League, and Valorant.
It was Full Sail's third year partnering with the North Carolina-based esports league, and the event gave students and grads the opportunity to gain relevant industry experience working in a variety of roles throughout the weekend. Full Sail students, staff, and grads had roles ranging from tournament organization and event production to casting and hosting.
Full Sail grads and former Armada players Daniel "Takasu" Hernandez (XPL league commissioner) and Chris "FluffyiG" Aviles (XPL league support specialist) returned to campus as XP League employees while recent Sportscasting grads Bryan "Bryonic" Flores and Quinn "Qolorblind" Sherr provided commentary for Rocket League and Valorant gameplay. Media Communications graduate Ebay Bates served as a photographer for the event, while current students Miles "A1phachino" Church (Game Development) and Mia "MiaMouse" Eremita (Sportscasting) worked throughout the weekend as on-camera talent.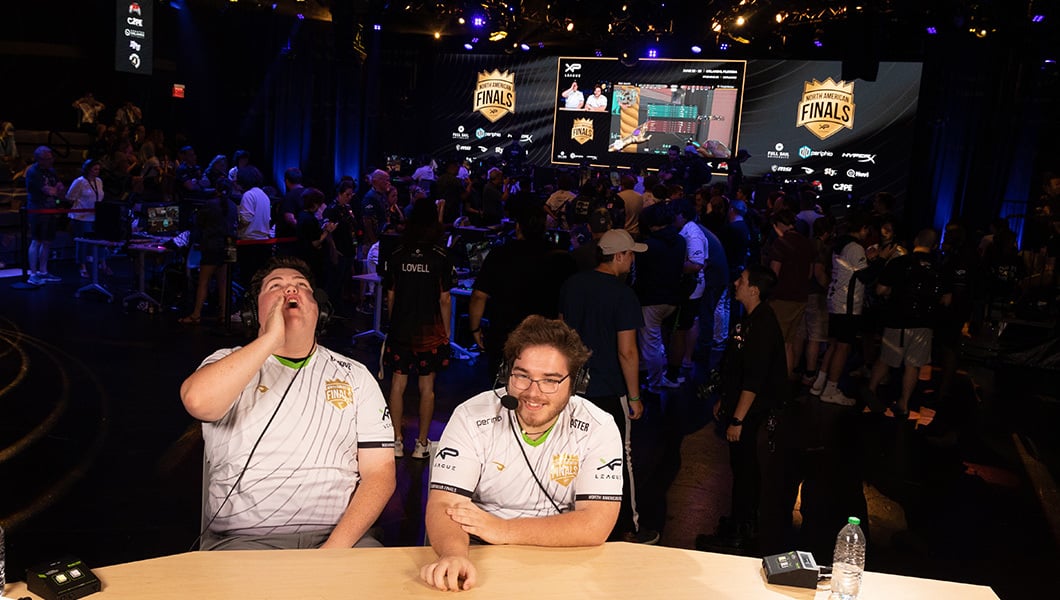 Casters Qolorblind and Xplosiv during Valorant gameplay in the Fortress.
The Full Sail Armada community stepped up in a number of roles behind the scenes, operating the observer room while supporting players on the floor as tournament organizers. Tournament Organizer and Observer Jake Fraser (Music Production graduate), Project Manager Nathaniel Mench (Computer Animation), Lead Tournament Organizer Aren Guinane (Sports Marketing and Media), and Talent Manager and Observer Jagger Fenwick (Game Business and Esports) were just some of the Armada community members who contributed their skills to the youth esports event.
Additionally, Full Sail University and XP League awarded two Full Sail students with a total of $15,000 in scholarships during the event, based on their contributions to the Armada community, success in their studies, and involvement in the North American Finals. Armada athletes Tristan "Gummi" Pisani-Blair and Jenna "Jandy" O'Brien each received $7,500 in scholarship funds during the event.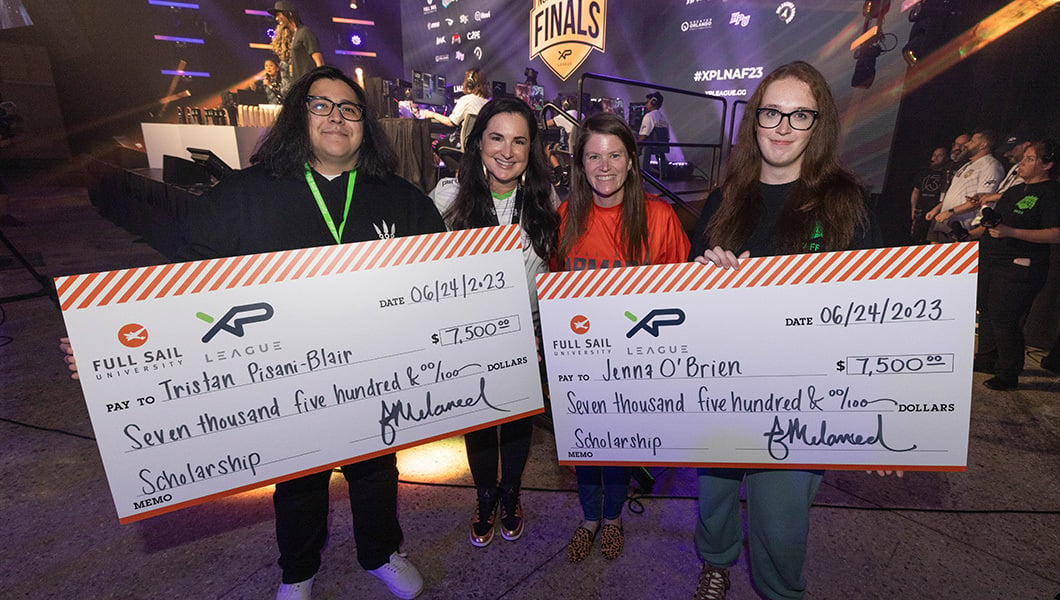 Eva Melamed (XP League Chief Brand Officer) and Sari Kitelyn (Director of Esports at Full Sail) with scholarship recipients Jandy and Gummi.
Throughout the weekend, the XP League community honored fallen Triangle Minotaurs player Harrison "Hank" Marcus who lost his battle with leukemia earlier in the season. Hank's Valorant team, coached by Full Sail graduate Michael "Hervmaster" Hervieux, put their all into the competition, and played #ForHank; their emotional efforts led to a storybook victory as the 2023 North American Finals Valorant champions. Additionally, the XPL and Full Sail communities came together to raise more than $22,000 for the Lukemia & Lyhmphoma Society's Tilt Cancer program.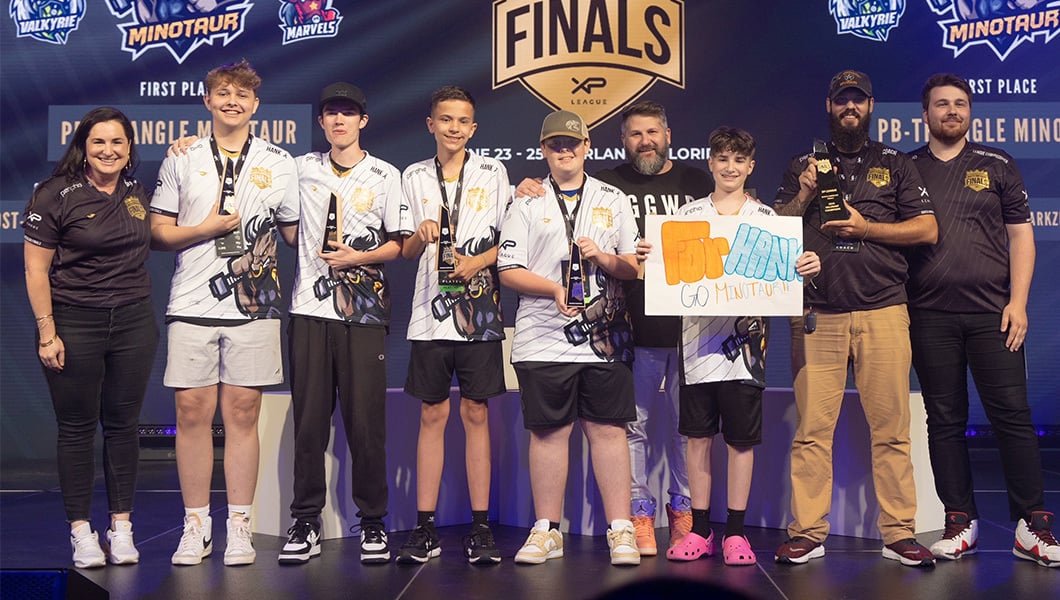 The Triangle Minotaurs accepting their first place trophies alongside their coach, Hervmaster.
Head over to XP League HQ's YouTube to relive all of the excitement from this year's North American Finals.
Want to join Full Sail's esports community? Join the Armada Discord server for important announcements about gaming events, team tryouts, and more.