Chance Glasco
Senior Animator
As one of the founding members of the Call of Duty franchise's team, senior animator Chance Glasco has had a profound impact on the last decade of video games.
"When you work on it you don't realize how well known your game is," says Chance.
It wasn't an overnight success story, though. After graduating from Full Sail's Computer Animation program in 2001 and trying to find work in Los Angeles, Chance visited family in Oklahoma and hooked up with an old friend who was working at a local studio. Chance worked as an animator on Allied Assault, which was released in 2001 to critical acclaim. From there, Chance and a group of co-workers took a gamble and launched their own studio. The result: Infinity Ward, the Call of Duty franchise, and more than 100 million copies sold.
Chance's specialty from the start has been creating the animations for the arsenal of weapons players use during the games. Their level of realism is among one of the highlights of the Call of Duty experience – and has helped the game earn celebrity endorsements and break sales records.
"Looking back, starting by coming out to California, sleeping in my car, and then going to where we are now – on a franchise that's the biggest in the world right now … it's amazing," says Chance. "I'm so blessed to have gone from that to this. All these numbers, the amount of people playing it, the popularity of the game – I feel humbled."
Credits:
Medal of Honor: Allied Assault, Call of Duty, Call of Duty 2, Call of Duty 4: Modern Warfare, Call of Duty: Modern Warfare 2, Call of Duty: Modern Warfare 3, Call of Duty: Ghosts
Graduation Year:
2001
You hear these numbers – like millions of people bought it – but you can't really visualize that. It really set in when we started breaking records. Like when we beat out Avatar for fastest-selling entertainment product. That's when you're like, 'Whoa.'"

—Chance Glasco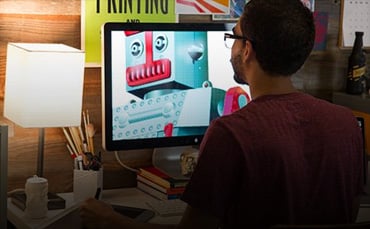 Create something that resonates.
2012 Hall of Fame Inductees