Jeremy Vickery
Assistant Art Director Ubisoft
Jeremy Vickery's successful 15-year career as an animator was born from a quiet rebellion: "In school I always had the teachers that would be like, 'Stop doodling all over everything,'" he remembers. "I'm so glad I didn't listen to them."
It was Toy Story that sparked Jeremy's desire to work for Pixar Animation Studios. After graduating from Full Sail's Digital Media program in 1997, Jeremy honed his chops on the Veggie Tales TV series and the animated feature Delgo before landing an interview with Pixar. He was hired as a lighting technical director for 2004's The Incredibles, a film that went on to win the Academy Award for Best Animated Feature.
"Starting on The Incredibles was just unreal, a dream come true for sure, and also very challenging," says Jeremy. "As a lighting artist, we are the last ones to touch a film before it goes out. We make it look pretty, and look like a believable world – really refine it to the level that it's worthy of putting the Pixar brand on it."
After a few years as a freelance artist, working with clients like LEGO, Disney, Ubisoft, and Sony, Jeremy missed the collaboration of a studio environment and rejoined Pixar in 2011. He's since worked on Brave and was the master lighting lead for the short film The Blue Umbrella.
"When I see the film in the final form, that's what overwhelms me," says Jeremy.
Credits:
Inside Out, WALL·E, The Incredibles, Cars, Ratatouille, The Blue Umbrella, Toy Story of Terror
Graduation Year:
1997
I spend all my time focusing on those little pixels that I push around and in the end it makes this moving story that becomes a part of the culture. You just don't realize that these subtle choices that we're making on a whim are going to stick in history."

—Jeremy Vickery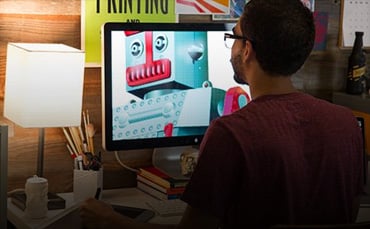 Create something that resonates.
2012 Hall of Fame Inductees