Joey Morelli
Senior Video Editor & Compositor at Electronic Arts Tiburon (EA SPORTS)
Joey Morelli's award-winning career in postproduction includes 25 TELLY awards, 10 ADDY awards, and 1 PROMAX award. The 1998 Digital Media grad is a Senior Video Editor and Compositor at EA Tiburon, where he works in the studio's in-house video production department, MediaWorks.
Before joining EA, Joey worked in the regional and national commercial television community starting his career at Zimmerman Partners Advertising, creating content for the Miami Dolphins, Florida Marlins, Florida Panthers, Nissan, AutoNation, Papa John's Pizza, MARS Music and more. After spending five years in Creative Services at the Golf Channel, he got the call from EA.

"I thought it was a joke, one of my buddies goofing on me," says Joey. "So I got back and said 'Sure, I'll come in for an interview.' This is now the best gig I've ever had. It's EA Sports – when nobody's looking, I'm walking around the halls going 'This place rocks.'"
At EA, Joey has created marketing spots, in-game videos, E3 show assets and other media content for titles like Rory Mcllroy PGA Tour, MADDEN NFL, NBA LIVE, NCAA Football, Tiger Woods PGA TOUR, EA SPORTS MMA, NASCAR Kart Racing and more.

It's an impressive library of games that are played every day by millions – a very cool feat in the eyes of Joey's two kids.
"My son constantly tells me, 'you're famous,'" says Joey.
Credits:
NBA LIVE, Rory McIlroy PGA TOUR, MADDEN NFL, Tiger Woods PGA TOUR, NCAA Football, EA Sports MMA, NASCAR Kart Racing, Golf Channel, Florida Marlins, Miami Dolphins, Florida Panthers, Nissan, AutoNation, 21 TELLYs, 10 ADDYs, 1 Promax
Graduation Year:
1998
For my family to think that I'm famous – their pride in what I do is bigger than me feeling that these games are all over the world. I am very humbled, but I know what I did to get where I am – a lot of long nights, long weekends. Nothing happens by accident. You set yourself in motion and it just leads you to where you want to go."

—Joey Morelli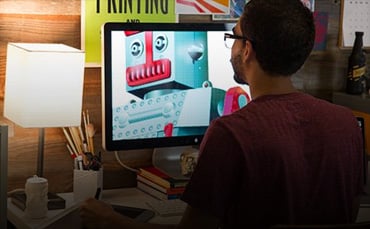 Create something that resonates.
2012 Hall of Fame Inductees