Marcella Araica
Audio Engineer
Marcella "Ms. Lago" Araica knew she wanted to work in Miami, Florida, at the Hit Factory. While she was a student in Full Sail's Recording Arts program, she called the studio manager every couple months to check in. Her persistence paid off, and after graduating in 2002, she interviewed and was offered a job as a general assistant. Two months in, she got the chance to prove her potential behind the console on a session with Missy Elliott.
"I got introduced to Missy, and she was like 'I'm ready, can you do this?' She liked my energy, so I basically got put on her sessions every time," says Marcella. "And that's how it all started, just an opportunity – the moment when an artist in a room is ready to record, and there you are."
Now a recording and mix engineer at Hit Factory, Marcella's credits include work on albums by Madonna, Snoop Dogg, Nelly Furtado, Christina Aguilera, and more. She's won two prestigious ASCAP awards for her work with pop vocalists Pink and Keri Hilson.
Beyond the console, Marcella teamed up with record producer Danja in 2009 to launch the independent music label, N.A.R.S. Records. The label is home to acts like Kevin Cossom, Wyld, and Luke James, and is just another outlet for Marcella's ambitions in the industry.
"I love being in the studio – when I'm not in the studio I feel empty," says Marcella.
Credits:
Jennifer Lopez, Chris Brown, Monica, Meek Mill, M.I.A, Jason Derulo, Kid Ink, Missy Elliot, Madonna, Snoop Dogg, Nelly Furtado, Mariah Carey, Timbaland, Christina Aguilera, Wyclef Jean, Usher, 2010 ASCAP Award Winner Pink ­ Sober & Keri Hilson ­ Knock You Down
Graduation Year:
2002
It feels really good to know you have a place in history. Everything I'm doing is always going to be around because it's music, and you can trace back to it. I think when I'm 60 or 70 and my grandkids want to hear it, that's when I'm going to be like, 'Oh my gosh I worked on this.''

—Marcella Araica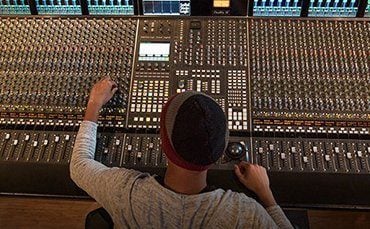 Music is a universal language.
2012 Hall of Fame Inductees